Hello! My name is Kemery Aichele, and I am the Sales Operations & Marketing Co-Op Intern at McWane Ductile in Coshocton, Ohio, this summer. I am an upcoming senior at Bowling Green State University, working towards a major in Visual Communication Technology, a fancy way of saying photography/videography/digital media, and a minor in Marketing. In this blog, I will talk about the beginning of my co-op internship, what I have learned, what other co-op interns' experiences have been, and if I would recommend this co-op internship opportunity to other students.
"The co-op program is a key part to building long-term success at McWane Ductile Ohio. The program is designed to attract talented individuals providing real projects and responsibilities. Many of our students will come back every year through their college career, gaining more experience with the intention of converting into full-time employment. I enjoy hearing about each individual's projects and listening to their perspectives about our culture and facility."

Tom Crawford, Vice-president/General Manager at McWane Ductile-oh
The Beginning
I found this co-op internship opportunity through Handshake, similar to LinkedIn, while searching for career related co-op internship options close to Zanesville, OH. After submitting my resume and scoring an interview, I started my position with McWane Ductile on May 16th. This was my first co-op internship ever, so I was nervous because I did not know how I would be treated, what work I had to do, and, more importantly, how I would fit into this company. All those worries quickly disappeared once I met everyone and started to get to know everyone better.
What a Normal Day Looks Like
My day-to-day tasks here depend on what my supervisor, Andrea Kubik, has me focusing on. My assignments range from organizing and archiving Iron Strong Insights Magazines to revising technical documents and many more tasks. I also get asked to sit in on Sales Operations meetings just so I know what we, as a company, are working on and striving to achieve.
One of the more notable projects I have worked on this summer is the Training Brochure. This brand-new document showcases all the training classes we offer at McWane Ductile to waterworks professionals. This document took a lot of hard work and revisions, but the outcome is something of which I am proud.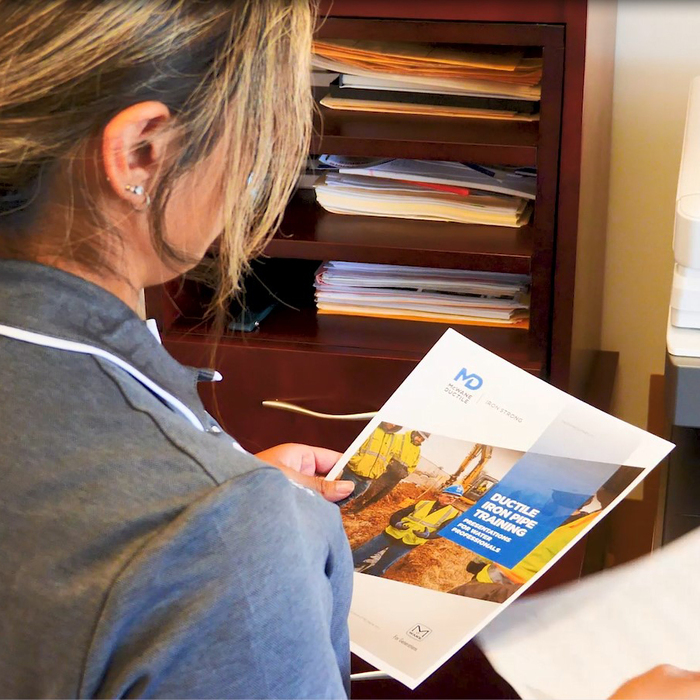 Photo: Aichele grabbing training brochure off of printer.
What I Have Learned
I have gained a lot from my time here at McWane Ductile. I want to share two of the most important skills that I picked up, especially if you are interested in marketing.
One of, if not the, most important things I learned of at this company is branding and how we have an established corporate image. When creating documents, I was required to stick to the company colors, fonts, and layouts. This is the first time I understood that there are times in marketing when you cannot create whatever you want and publish it. I am so glad that I made aware of this structure because it will make me more conscious of what I am creating in the future.
The other big strategy I have learned is when the best time to post on our website and social media accounts. At McWane Ductile, we track who visits our websites, what time they do so, who reads our blogs, and whether they stay on our website or click a link and go to a different web page. All of that is tracked, and we use that to make our content better for you. We want to ensure that you are interested in reading our blogs, that we caught your attention with our social media posts, and that you watch our YouTube videos. We also read your feedback to help us improve.
Other Interns' Experiences
I know that I am not your typical co-op intern to work at a pipe manufacturing company. Therefore, I have interviewed two other co-op interns that work at McWane Ductile. Abby Matthews works as an Environmental Co-Op Intern, and Andrew Dettra works as an Electrical Engineer Co-Op Intern. Abby and Andrew were asked:
What are your daily tasks here at McWane Ductile?
What have you learned from your co-op internship here?
Would you recommend this co-op internship to anyone interested in your position?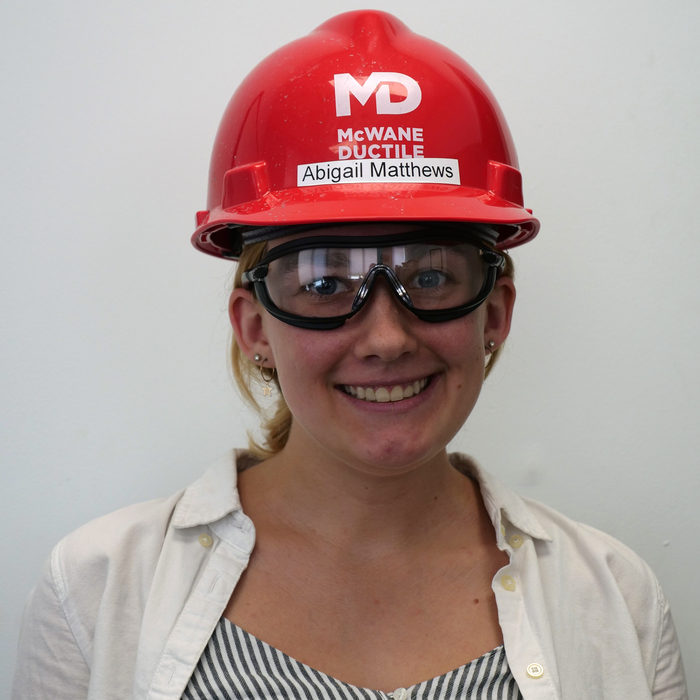 Photo: Abby Matthews, Environmental Engineer Co-Op Intern.
A1: "My daily tasks here at McWane Ductile include daily inspections around the facility to ensure our numbers are in the right range and we are operating in safe conditions. These inspections include tasks such as checking the lime silo and the cupula for visible emissions and weekly waste inspections to ensure everything is stored safely. 
I also have various waste samples to collect from time to time (like a pit solids sample from the Wastewater Treatment Plant (WWTP) or an Effluent Treatment Plant (ETA) baghouse dust sample) to drop off at a lab to determine if the waste is hazardous or non-hazardous.
When I am not doing samples or inspections, I am in my office working on various spreadsheets and updating files. I also enjoy my day researching and learning about how the WWTP works and all the other variables that play a role."
A2: "From interning here, I have learned how a real career could pan out for me one day. I have learned a lot about foundries themselves, but also the various levels of corporate. It has been interesting and beneficial to see how a company, like one I will probably work at one day, works every day.
I have also learned why certain emissions need to be monitored, or why we need to look at certain things. Many parameters go into the environmental side of this company that I have never really thought about or fully grasped, so it has been very nice to see this side of things. I have also learned that if you are curious, ask! Everyone here is accommodating and would be more than willing to answer about anything in the plant."
A3: "I would recommend this co-op internship or any co-op internship with McWane Ductile to any student interested. From the beginning of my co-op internship, I have felt that this company cares about how your co-op internship goes and that you have learning opportunities here.
At the very least, this co-op internship opportunity has shown me or allowed me to learn many skills that I will need in the workplace or how I would use those skills. If you are interested in anything environmental or even the industrial side of things, I would recommend a co-op internship here at McWane Ductile for you to see at least what your career could look like."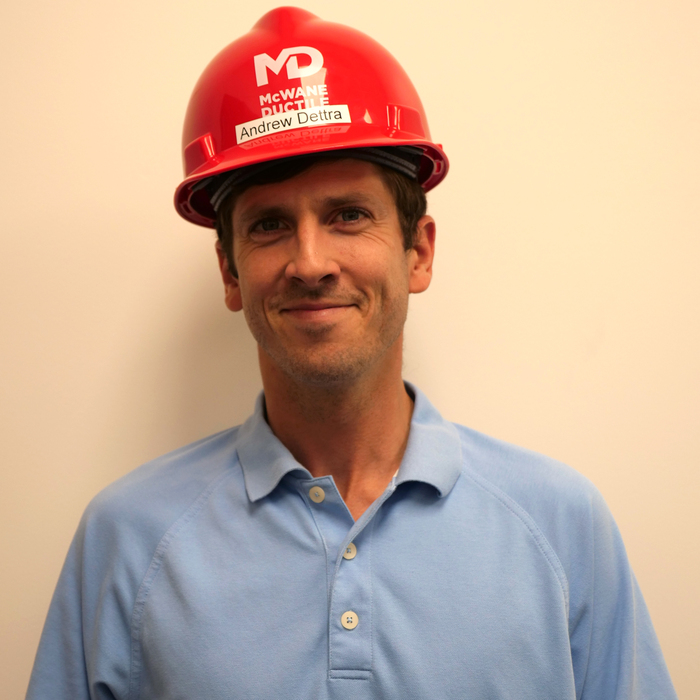 Photo: Andrew Dettra, Electrical Engineer Co-Op Intern.
A1: "My daily tasks are less repetitive and more project to project. Some projects are bigger than others, take more time, and some are thirty minutes worth of work. But within the projects, the common theme has been using AutoCAD Electrical to create drawings for various projects or edit existing ones. This takes circuit theory knowledge and some on-the-floor thinking."
A2: "I didn't know any AutoCAD Electrical before coming here. I knew the basic AutoCAD software, but AutoCAD Electrical is its own beast. I knew nothing of ladder logic or the Allen Bradley controllers they use here. But I have become much more familiar as time goes on."
A3: "I would absolutely recommend anyone in this field to come and intern here. You get exposed to so many things that you have never seen before. The factory itself is extremely fascinating, and what goes into everything is so much more advanced than many would think goes on in a foundry."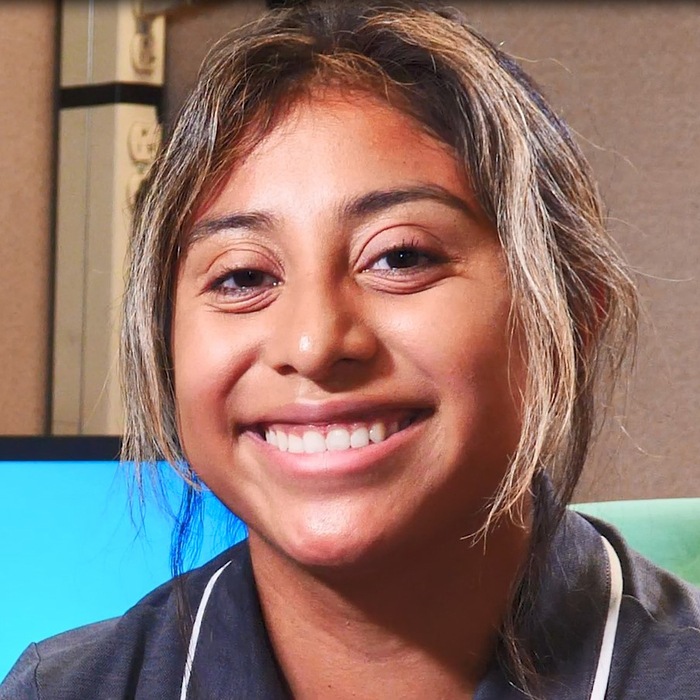 Photo: Kemery Aichele, Marking and Sales Operations Co-Op Intern.
Conclusion
The question now comes back to me. "Would you recommend this co-op internship to anyone else?" Yes, one hundred percent yes. This co-op internship was so educational, and I have improved so much over these past three months. The people who work at this company are hardworking individuals who put their best foot forward to ensure their work is something they are proud of.
 If you are interested in any co-op internships offered at the three McWane Ductile locations in Coshocton, Ohio, Provo, Utah, and Phillipsburg, New Jersey, you can click on the careers tab on our website to find out more information. Once again, a huge thank you to McWane Ductile for giving me this opportunity!
Need Assistance with Your Waterworks Project?
If you have any questions regarding your water or wastewater infrastructure project, be sure to reach out to your local McWane Ductile representative. We have team members who've managed small and large water utility systems, served in engineering consulting firms, and bring decades of experience in solving field issues involving pipeline construction and operation. From design to submittal, to installation, we strive to provide education and assistance to water professionals throughout the water and wastewater industry.
Check Out All Our Digital Offerings