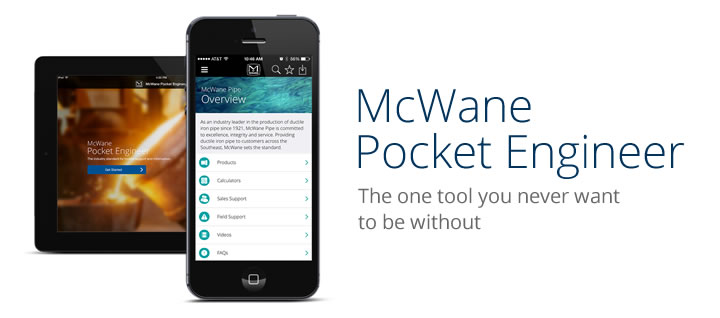 Pocket Engineer
The McWane Picket Engineer™ is designed to work on any mobile device or computer. It's just another way that we make it easier to do business with McWane.
This application allows users to retrieve pertinent technical information on our products and efficiently perform designs with its user-friendly calculators. Simply enter basic input data, and the McWane Pocket Engineer does the rest. Users have access to essential calculations in the field and can finish in mere seconds what otherwise can take hours to compute. This app makes it easier for engineers and contractor to do their job by providing them with critical information on-demand, anytime, anywhere.
The McWane Pocket Engineer has numerous uses beyond the results provided by the calculators, such as:
Industry Info
FAQs
Submittal Data
Manufacturing Videos
Sales Contact Information
And it's not just for McWane Ductile. Many other products under the McWane Inc. umbrella are included in one location:
Hydrants
Fittings
Pressure Vessels
Plumbing
Ductile Iron Utility Poles, and more!
We encourage you to give the McWane Pocket Engineer a try by clicking below.