In the Eye of the Storm—
Jerry, Sept 24, 2022; I'm sitting on the beach near the northern tip of Captiva Island, Florida. I'm on vacation with my wife, enjoying the warm sun, dolphins playing, and birds feeding as if there was no care in the world. Admittedly, most people in the area were already aware of the tropical storm developing in the Caribbean Sea and wondered, will the storm become a hurricane?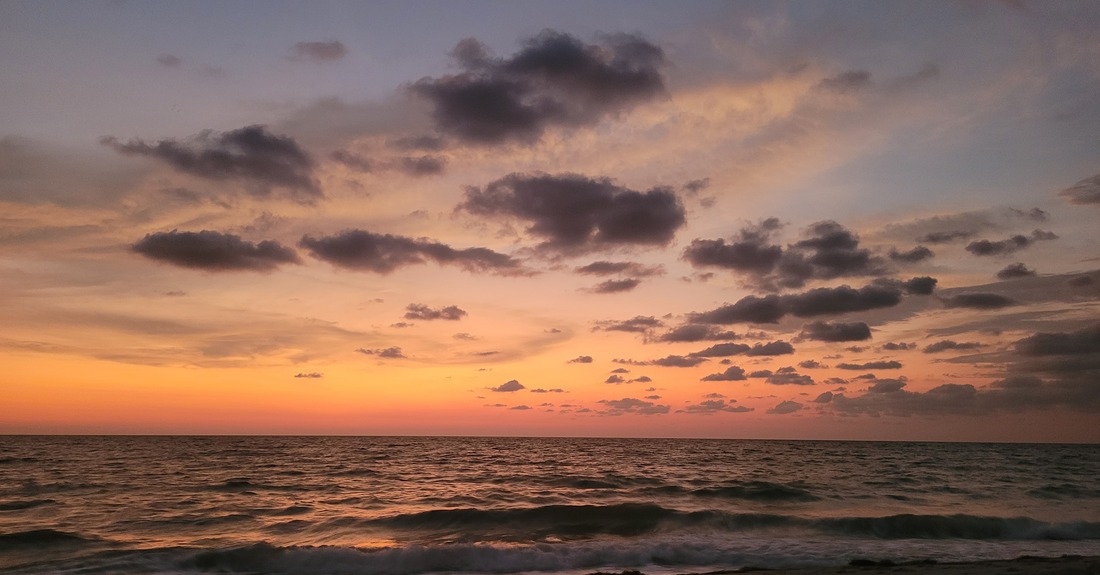 Captiva Island Sunset Sept 23, 2022.
With a storm brewing and having worked so closely with water utilities for more than 35 years, particularly within this area in recent years, it was hard not to show concern for the impending storm and potential danger. It made me recall the fable from my childhood, "The Three Little Pigs."
Can this beautiful expanse of tranquility and this community withstand what Mother Nature may unleash? Did the local utilities take time and make investments in solid infrastructure? Did the utility make the right pipeline material choice? Will the water flow?
SO, WHAT HAPPENED NEXT?
As my wife and I hastily departed from our vacation, what started as a tropical depression intensely strengthened to a Category 4 hurricane, known as Hurricane Ian. On Sept. 28, Ian was the fifth strongest hurricane on record to hit land in the contiguous U.S. Its crushing blow left a massive path of destruction to the landscape and to structures and left millions without utilities.
Pine Island, the bridge to Pine Island, the Sanibel Causeway and Sanibel Island, were hardest hit by the storm surge; for more than two months, the causeway to Sanibel Island was shut off and only open to residents and persons with admittance to work (Source—Wikipedia).
STRAW, WOOD, BRICK, WHAT ABOUT IRON?
Gary Gula and I have worked together in the area for many years, helping educate crews on installing Ductile iron waterworks systems. We returned to the area shortly after the storm. But neither of us was prepared for the devastation we witnessed following Hurricane Ian. We realized immediately that some might never recoup what they have lost.
There was an empty feeling traveling along Bonita Beach on Hickory Boulevard when seeing the wreckage for the first time in person. Too often, specifiers look at inferior products thinking there will be cost savings to a project, and in this tragedy, it was apparent some unwise choices were made.
WHY DOES RESILIENCY MATTER?
We often hear about millions of people needing power after a massive storm, but we rarely hear, "Where's the water?"
Immediately following destructive storms, communities typically lack water due to the loss of electricity to pump it. Often, people assume that waterlines are buried and not affected by severe weather conditions.
The fact is, there are exposed water pipes in a vast number of applications, particularly in the state of Florida. As we saw, if the pipeline was lesser than Ductile iron pipe, it didn't withstand Mother Nature.
Certain manufacturers, most notably PVC and HPDE, have attempted to manipulate specifications through legislation to get their products listed based on price without considering what the engineer deems the right product for a specific project. McWane Ductile views projects from different angles with recommendations to complete the project correctly, not just based on price alone. 
WHY IS DUCTILE IRON PIPE SUPERIOR AGAINST DEVASTATING STORMS AND MORE?
Ductile Iron pipe is one of the most resilient pipe materials available today. The strength of the 60-42-10 grade Ductile iron makes it a prime material to hold up to severe conditions and, in this case, hurricanes.
Other scenarios include deep burial, trench through rock, or high-pressure applications. The 60,000-psi tensile strength and the flexibility of the 10% elongation properties make DI pipe an ideal material for these adverse environments.
DI is not affected by ultraviolet light, making it safe to use above ground. This durability is why DI is commonly used beneath multi-million-dollar structures such as the bridge crossing to Sanibel Island.
Bridge crossings are found in warm or cold climates. They are often not viewed as crucial as buried pipe, but above-ground valve clusters are a common sight, particularly in Florida. Following the aftermath of Ian, DI valves, fittings, and piping remained Iron Strong.
What about electric utility poles made from Ductile iron?
Let's take this one step further. Building codes are constantly improving, enabling communities to withstand whatever may come their way. Improving infrastructure also includes electric service. Today, electric utility poles are also being constructed from materials other than wood. Wood poles are being replaced with more resilient materials. That's right! One of these resilient materials is Ductile iron.
Ductile iron utility poles have a service life of 75 years which is well beyond conventional wood poles. McWane Poles make a great choice as they are lighter than concrete poles and more resistant to corrosion than steel poles.
The McWane Poles division recently surpassed the milestone of 100,000 poles manufactured in domestic facilities. McWane Poles are used for both transmission and distribution lines and, of course, are made from 96% recycled material and are recyclable. Due to these resilient products, power restoration times have been reduced as power companies can reconnect or replace wires without replacing the entire pole.
SUMMARY
Like the story of "The Three Little Pigs," whether an engineer, a product specialist, or an installer… in critical times, Ductile iron prevailed. This was proved by the performance of DI pipe from Bonita Beach, north through Fort Myers, Sanibel Island and Captiva Island.
DI pipe in underground and above-ground applications withstood the massive winds and 10–15-foot storm surge that ensued. Infrastructure that was flooded held up against the strong current and debris flow. Let's talk about making your utility more resilient with Ductile iron pipe.
Some may ask, "Why do some continue to live in hurricane-prone areas?" After having worked on utility projects and vacationed in this beautiful area, it's easy to see the draw. Even with massive destruction, the vibe in the community is that of perseverance and resiliency, what we call Iron Strong.
With the return of basic human needs such as water and electricity, people have begun to restore their lives, and businesses are coming back online. We wish the Southwest Florida region and other areas affected by Hurricane Ian a safe and speedy recovery. 
Need Assistance with Your Waterworks Project?
If you have any questions regarding your water or wastewater infrastructure project, be sure to reach out to your local McWane Ductile representative. We have team members who've managed small and large water utility systems, served in engineering consulting firms, and bring decades of experience in solving field issues involving pipeline construction and operation. From design to submittal to installation, we strive to provide education and assistance to water professionals throughout the water and wastewater industry.
Check Out All Our Digital Offerings