McWane Inc. Donates $1 Million to Anchor Cal Ripken, Sr. Foundation Youth Development Park Project in Phillipsburg Community
05/25/2023
McWane Ductile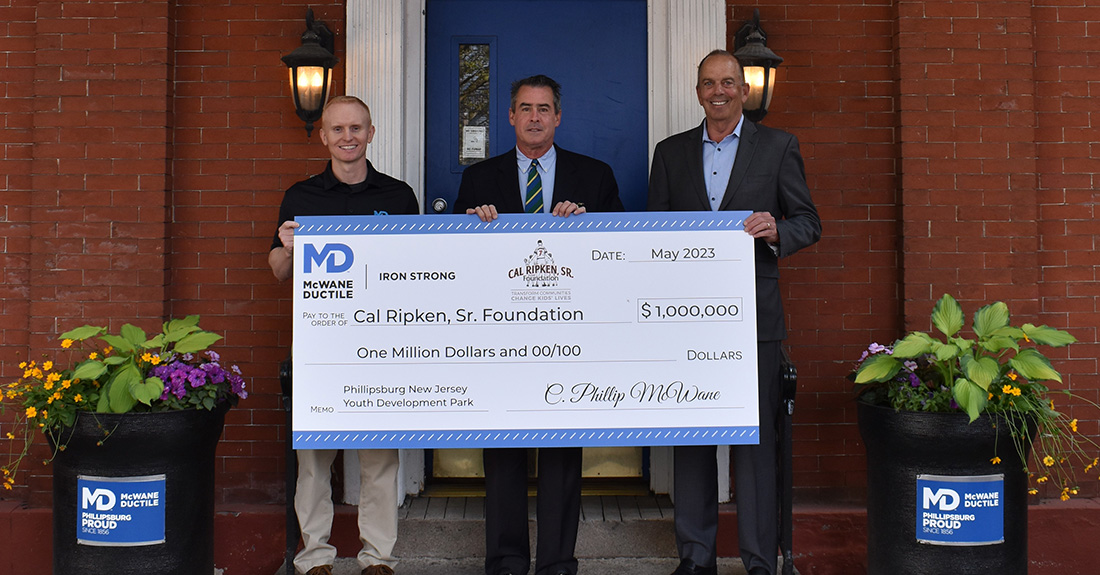 Pictured Left to Right: Keith Mallett, Vice President and General Manager – McWane Ductile New Jersey Jeffrey E. Finegan, Sr., Phillipsburg Youth Development Park Committee Member Chuck Brady, Senior Vice President of Development – Cal Ripken, Sr. Foundation Photo credit: Kelly Bray
BIRMINGHAM, ALA. (May 25, 2023) ─ McWane Inc., the parent company of McWane Ductile New Jersey, today announced a donation in the amount of $1 million toward the proposed Phillipsburg, NJ, project in partnership with the Cal Ripken, Sr. Foundation. The project, a state-of-the-art, multipurpose recreational field at Walters Park in the heart of Phillipsburg, would offer opportunities to area youth who may not otherwise have access to such community resources. The Cal Ripken, Sr. Foundation has collaborated on over one hundred of these Youth Development Park projects nationwide.
The ductile iron plant ─ having operated in the same Phillipsburg location since 1856, five years prior to the New Jersey Legislature incorporating Phillipsburg as a town ─ has been an economic mainstay in the area and a direct contributor toward the community's growth and development. Contributing toward improving Phillipsburg's infrastructure is nothing new for McWane Ductile New Jersey, having partnered on several projects in recent years, including rebuilding Main Street and repaving Sitgreaves Street, as well as upgrades to community parks and the Heritage Walkway.
Nationwide, the Ripken Foundation has been involved in the construction, opening and programming of 115 parks that provide youth safe places to play and learn with 22 of those being adaptive parks. This year, the organization is on pace to add an additional eight to ten more parks across the country. The proposed Phillipsburg field, the first such project by the Ripken Foundation in New Jersey, would accommodate baseball and softball programs as well as football, soccer and lacrosse and encompass 120,000 square feet.  The total cost of the project will be $2.4 million, and the goal is to complete fundraising by year end with construction starting in early 2024 and completion later next year.
Cal Ripken, Jr., Hall of Fame baseball player and co-founder of the Cal Ripken, Sr. Foundation said, "We are thrilled by and grateful to McWane for such a generous lead gift for this important project.  Over the years we have seen firsthand the impact that our Youth Development Parks have on the communities they serve, and we are excited to see this one come to life for the youth of Phillipsburg."
According to McWane Ductile New Jersey General Manager, Keith Mallett, "We are incredibly proud McWane is making this substantial investment in Phillipsburg, which will enrich the lives of multiple generations. Among our continued investments in addressing critical community needs is positive youth development and education, and this donation further demonstrates our commitment to the future and wellbeing of this community."
In November 2022, a project team approached the Phillipsburg Town Council to present the idea of partnering with the Cal Ripken, Sr. Foundation to develop the project. Among them included local citizens Dr. James Brennan, president of the self-proclaimed Dream Team project volunteers and Jeff Finegan, vice president, as well as Sr. Vice President of the Cal Ripken, Sr. Foundation, Chuck Brady, who grew up in Phillipsburg.
Upon learning of McWane's donation, Brennan stated, "The significance of this donation and what it means to our community cannot be overstated. What began as a dream to bring recreational facilities of this caliber to the children of Phillipsburg is within reach thanks to one of its legacy operations that has been a part of our town's history since the beginning. On a personal note, my great-great-grandfather was a member of the very first crew when the foundry opened its doors 167 years ago, and to know all these years later that operation is continuing to provide for Phillipsburg in ways that extend well beyond the plant is truly something special."
Finegan added, "Chuck and I have long talked of a Ripken Youth Development Field in our hometown. Feeling the timing might be right, I reached out to him in the fall to explore the possibilities. McWane's incredibly generous commitment, possibly the largest private donation in Phillipsburg history, has breathed immediate life into what was merely a dream six months ago. Additionally, this sizable gift adds immediate legitimacy to this project and desire to bring this magnificent facility to the youth of Phillipsburg. The euphoria of McWane taking us to just shy of the halfway mark is tempered by the knowledge that there is still much work to do. The hope is this exciting news will invigorate other community and business leaders to join in this incredible endeavor. With only a few other smaller donations at the time we approached them, McWane, long an anchor in this community, has taken an incredible leap of faith that will benefit Phillipsburg for many years to come."
About McWane, Inc.
McWane, Inc. is a family-owned business based in Birmingham, Alabama, with companies across the U.S. and around the world. The McWane family of companies casts ductile iron products, including pipe, valves, hydrants, fittings and plumbing products; and manufactures fire extinguishers, fire suppression systems and steel pressure vessels. McWane is a leader in delivering clean, safe drinking water around the world while focusing on safe, environmentally friendly manufacturing processes. With more than 7,000 team members, McWane has a longstanding commitment of support to the communities where our team members live and work. For more information, visit mcwane.com. 
About the Cal Ripken, Sr. Foundation
The Cal Ripken, Sr. Foundation helps to strengthen America's most underserved and distressed communities by supporting and advocating for children, building Youth Development Parks and STEM Centers, partnering with law enforcement and youth-service agencies, and addressing community needs through its national program initiatives. To learn more about the Ripken Foundation's Youth Development Parks, visit: https://www.ripkenfoundation.org/parks-map-page.
New Jersey
183 Sitgreaves Street
Phillipsburg, NJ 08865
Ohio
2266 South Sixth St
Coshocton, OH 43812
Utah
1401 East 2000 South
Provo, UT 84606